I started reading Punk Monk by Andy Freeman and Pete Greig a few days ago. How stupid I have been to be so casual and neglectful to something so profound that lies within me. The wells of prayer that I have capped off for a good while now with no particular reason other than it just happened, have began to stir and press on my spirit. I get the same feelings I did when I read Red Moon Rising and an excitement slams me back on my face and I just want to cry out to the Lord. Partly for forgiveness for dropping the ball but most imporantly to take up my position and interceed on behalf of the lost..the Kingdom...all the things that have burned within my spirit and in other people's as well.
It's time to cultivate a lifestyle of prayer again.
It's time for the Watchmen to take back up their walls
Isaiah 62:6-7 (New International Version)
6 I have posted watchmen on your walls, O Jerusalem;
they will never be silent day or night.
You who call on the LORD,
give yourselves no rest,
7 and give him no rest till he establishes Jerusalem
and makes her the praise of the earth.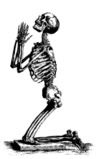 Dry bones live